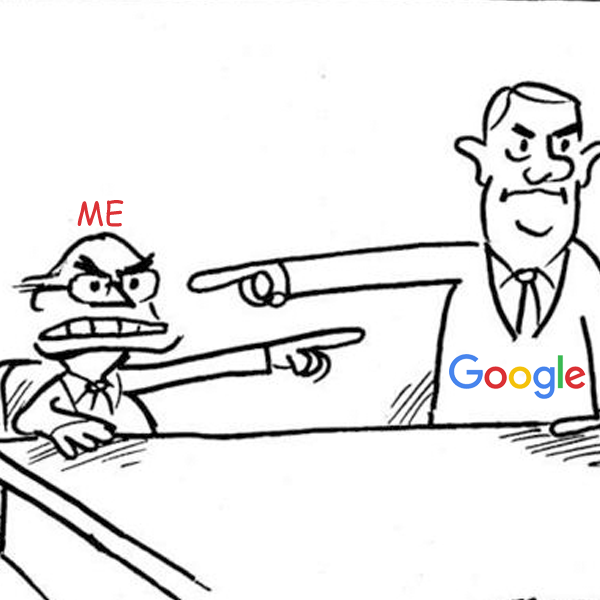 Blaming Google for ranking started from the day Google started bringing updates. But head down sadness for not ranking begin after few latest updates of Google. Most of us these days say "100% waste of money. Nothing is working these days. Let's quit". Wait wait wait! There is a very important part in SEO that we miss most of the time. Without even caring about the Google's checklist for the ranking factors that is working in 2016.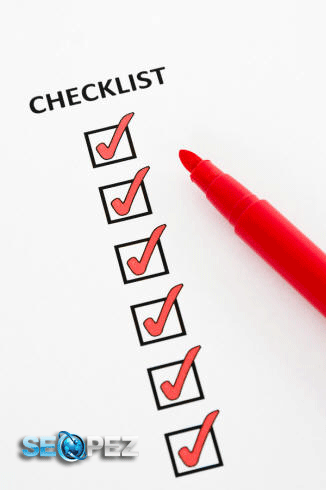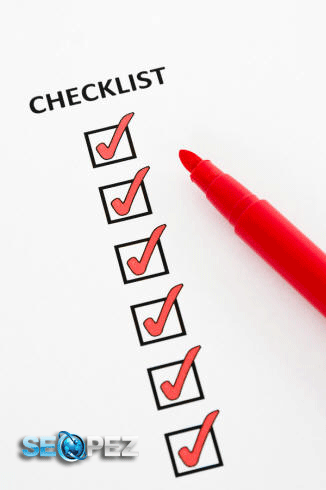 On page SEO
Today I will discuss the factors on page SEO which is pulling you down below the 3rd page or even more.
The main term is over optimization. The factor we are thinking that will rank me up. Actually, those factors are your true enemy poisoning your site from the beginning.
Do you know what is that?
Ans: Your Main Keyword.
Let me explain, what I used to think.
1. Putting the keyword in the title.
2. Putting the keyword in the headers
3. Using enormous amount of keywords to enrich the content
4. Creating all the pages, categories, posts, products etc focusing on the keywords
5. EMD = Exact match domain, still some people think that EMD booked the 1st position before the site born. Although most of us know that Google is not caring about the EMD anymore.
6. Creating backlinks with the keyword to let Google know that I am trying to rank this keyword. Google does not even care about it too.
Ranking Factors That is Working in 2016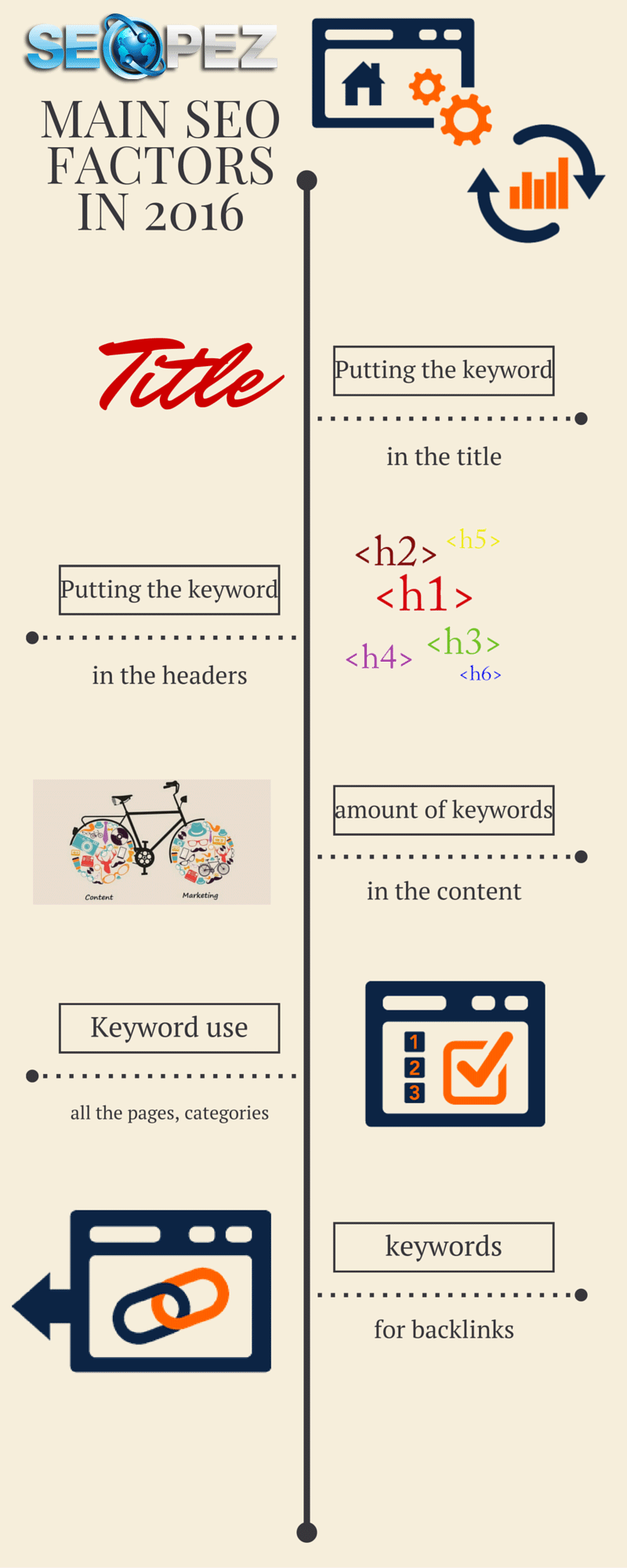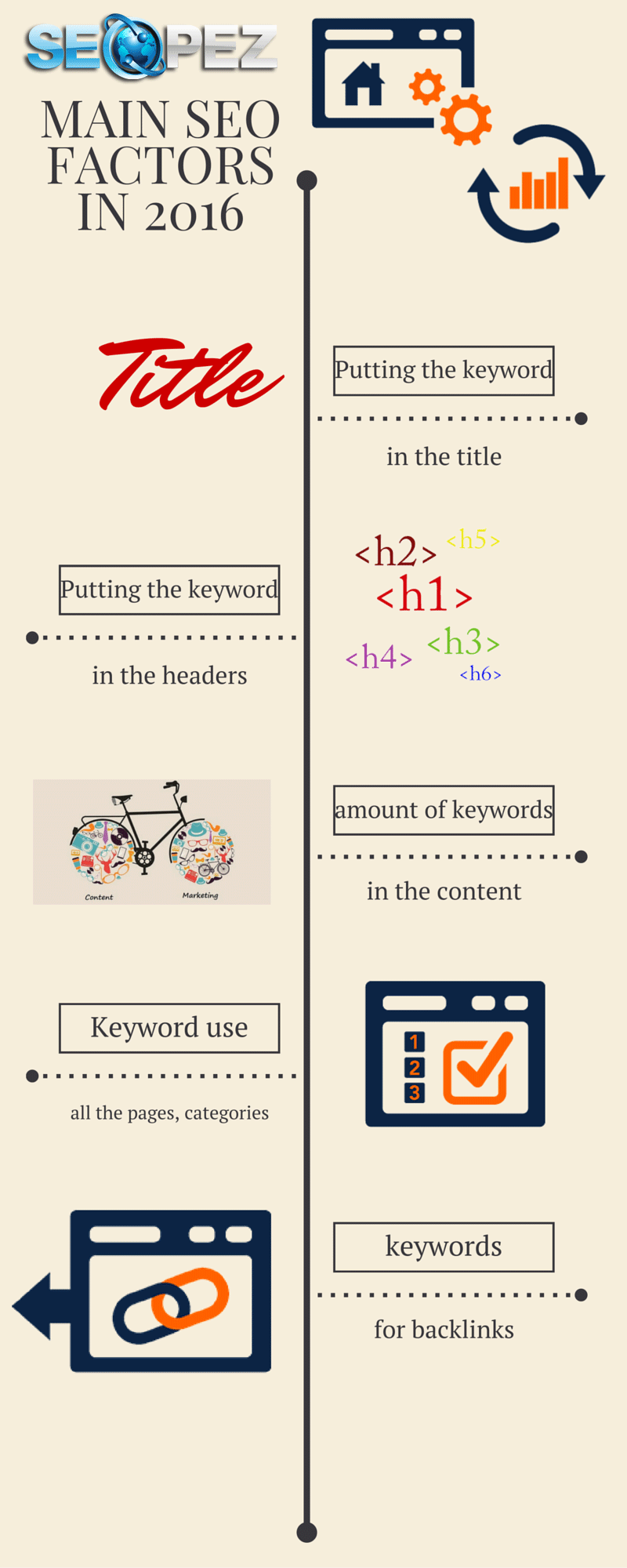 What I actually mean is that, if you push Google for anything, he will just ignore it more.
Now it is the time to turn over the page and get started.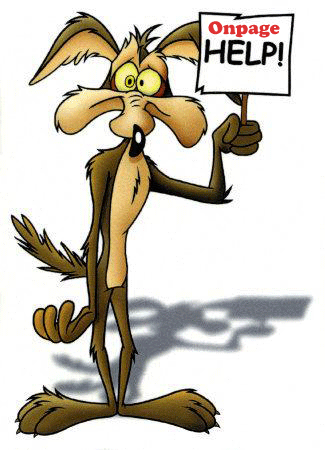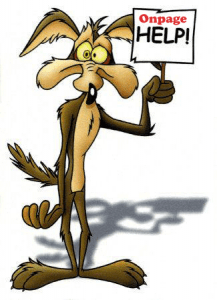 We will use keywords for which we want to rank but it has to be done precisely. Google created a huge department (spam fighter) to stop any kind of formula which will rank you 1st.
The basic idea of google is to rank a relevant, quality natural things.
So, proper on page optimization suggestion is what we are looking for. You can easily fix these factors if you want, just need to follow the instruction. But for a precise structure and faster solution or to save your precious time you can assign us your onpage seo optimization.
And every sector does not have the same formula. There is some basic stuff which common, which I discussed above but they are few unique thing that also needed to be noted.
Google is an open place where you can find your answer.
Not by searching how to solve my on-page SEO problem. You need to search your main keywords. And you need to follow the sites Google is caring. Find a unique factor which impresses you.
Add it in your list and research on all the top 10 sites. Blend it and use it in your site.
Now you know that your site is on top for on page optimization.
Then the factor comes about backlink building, quality of content, site structure, visitor engagement and many more factors. As you call the sites your competitors those who are on 1st page then why do not you think to beat them with the backlinks too.
Only creating an enormous amount of backlinks won't help you now:
1. You do need to know where to build the effective backlinks?
2. How many of them do we need to create?
and
3. How to make it natural?
If your visitors do not want to stay in your site, Google will never bring you on top according to the latest updates.
Coming on top is not impossible, but it depends on how much you want it and what you are doing for it.
So, we need a monthly plan to proceed srategically. Building links muct be Diversified and low ratio for number of backlinks by reffering domain. Again, if you want then you can start making a strategy or you can save your effort and time by subscribing our SEO monthly plan. If you want then we can have a discussion before any procedure through skype or email etc. 🙂